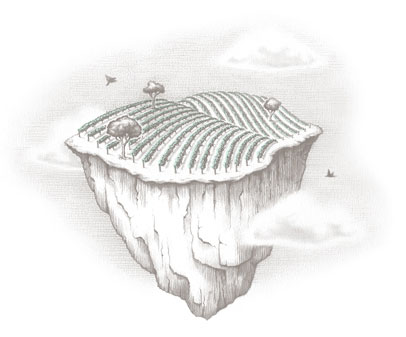 A few years ago one of my mates from the big smoke tapped me on the shoulder and said that he wanted to get into the wine game and asked me to keep an eye out for something for him. Fate stepped in shortly afterwards and my favourite piece of land in the Barossa hit the market. From my beginnings in the Barossa I have coveted this block. I've seen it as the spot that I reckon I could make some wines to equal those that I admire most from around the country. I convinced Neil that this was the spot that he had to have and whilst I wasn't really in a position to be investing in another vineyard I couldn't let him have all of the fun to himself so I took a small share.
To give some perspective – The vineyard is located on Roennfeldt Road, straddling one of the highest points of the boundary between Greenock and Marananga, perched on the northern end of the ironstone ridge that lays claim to some of the Barossa's most famous. Indeed, right next door is the source of our own Righteous Shiraz, Torbreck's Laird, Two Hands, Greenock Creek and the list goes on. At 315m ASL it sits among the most elevated sites on the 'valley floor' and being on the end of the ridge there are 3 distinct aspects to the block – east being planted predominantly to shiraz, North to Cabernet Sauvignon and west to Grenache and Mataro. It doesn't come any sweeter than this.
The vineyard's location has led to lean and depleted stoney soils that significantly limit possible yields. The outstanding geology of the site and the suitability to grow cracking grapes on these shallow, ancient soils was just another major draw card. Traditionally the fruit has been locked into lengthy contracts to the corporate end of town, consistently producing a small crop of coveted fruit that has oft found its way into their icon wines. I can certainly see why.
The wines are distinctly Barossan with the depth and concentration that you expect from Marananga and Greenock but have that site driven savoury balance that I always long for.
We have called the vineyard UTOPOS, the root word of utopia. Perhaps it means (E) a good and perfect place. I figure that this is what Neil was chasing – the dream of another world far removed from his day to day grind. Or perhaps it means (O) a place that cannot be. Often what people find at the end of their journey in this game. I'm pretty confident that we've found Eutopos not Outopos…